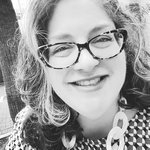 EmilyAdamsOnFire
Hello, I'm Emily. Perhaps you've just found my shop – or maybe you've known me for years. Either way, I'm glad you found me. For more info, please visit my website, www.EmilyAdamsOnFire.com. My style is retro with a modern twist. I love everything geeky and a little goth. I have a thing for brains, hearts & skulls...and GIRL POWER! In my life before self-employment, I worked on the corporate side of the paper crafts industry for various manufacturers for 8+ years as an educator, marketer and product designer. I was an advocate for crafting & creativity – writing for books and magazines, filming for the DIY network and teaching around the country and internationally. I found my niche in trend forecasting & taught several trend watching classes over the years in the craft & hobby industry. EmilyAdamsOnFire joined Society6 on October 30, 2015
More
Hello, I'm Emily. Perhaps you've just found my shop – or maybe you've known me for years. Either way, I'm glad you found me. For more info, please visit my website, www.EmilyAdamsOnFire.com.
My style is retro with a modern twist. I love everything geeky and a little goth. I have a thing for brains, hearts & skulls...and GIRL POWER!
In my life before self-employment, I worked on the corporate side of the paper crafts industry for various manufacturers for 8+ years as an educator, marketer and product designer. I was an advocate for crafting & creativity – writing for books and magazines, filming for the DIY network and teaching around the country and internationally. I found my niche in trend forecasting & taught several trend watching classes over the years in the craft & hobby industry.
EmilyAdamsOnFire joined Society6 on October 30, 2015.