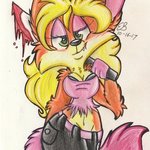 EmilyBandicoot1234
Hi my name is Emily and I am a young artist who is looking to sell my art. I am 17 at the moment and hope to go on and work for Disney when I get out of art school I will be graduating from High school this year and I plan on going straight to art school. anyway I hope at some point I will sell something. If you are not interested in buying my art but seeing more follow the link to me DevaintArt https://emilybandicoot1234.deviantart.com/ were I post all my work hope to see you there. EmilyBandicoot1234 joined Society6 on December 15, 2016
More
Hi my name is Emily and I am a young artist who is looking to sell my art. I am 17 at the moment and hope to go on and work for Disney when I get out of art school
I will be graduating from High school this year and I plan on going straight to art school. anyway I hope at some point I will sell something. If you are not interested in buying my art but seeing more follow the link to me DevaintArt https://emilybandicoot1234.deviantart.com/ were I post all my work hope to see you there.
EmilyBandicoot1234 joined Society6 on December 15, 2016.
EmilyBandicoot1234's Store
117 results
Filter