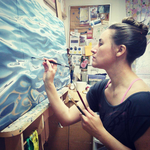 Emily Bickell
A life-long fascination with nature informs Emily's work. Her adventures outdoors provide endless inspiration for her oil paintings. A combination of smooth brushstrokes and attention to detail and colour define her style. Emily is represented by Art Interiors (Toronto) and the Whistler Village Art Gallery (Whistler) in Canada, and by the Halde Galerie (Widen & St. Moritz) in Switzerland. Emily's studio is located in Calgary, Alberta, Canada, where she lives with her husband and two young children. Emily Bickell joined Society6 on November 2, 2014
More
A life-long fascination with nature informs Emily's work. Her adventures outdoors provide endless inspiration for her oil paintings. A combination of smooth brushstrokes and attention to detail and colour define her style.
Emily is represented by Art Interiors (Toronto) and the Whistler Village Art Gallery (Whistler) in Canada, and by the Halde Galerie (Widen & St. Moritz) in Switzerland.
Emily's studio is located in Calgary, Alberta, Canada, where she lives with her husband and two young children.
Emily Bickell joined Society6 on November 2, 2014.
Emily Bickell's Store
151 results
Filter