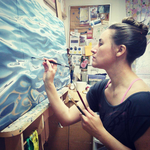 Emily Bickell
A life-long fascination with nature informs Emily's work. Her adventures outdoors provide endless inspiration for her oil paintings. A combination of smooth brushstrokes and attention to detail and colour define her style.
Emily is represented by Art Interiors (Toronto, Canada) and by the Halde Galerie (Widen & St. Moritz, Switzerland).
Emily's studio is located in Calgary, Alberta, Canada, where she lives with her husband and two young children.
Read more
Emily Bickell's Store
Filter