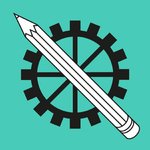 Emily Brand
My name is Emily Brand, I have degrees in both Art and Photography from Falmouth University and an MA in Graphic Design at Bournemouth Art University. My work is mostly influenced by steampunk, gaming, cinema and literature, but also anything that grabs my attention with a dramatic atmosphere and unusual approach.
The aims of my art are to:
• To interrupt everyday life with something unexpected and positive. • To spread knowledge of steampunk to more people. • To explore unusual and traditional mediums.
Read more