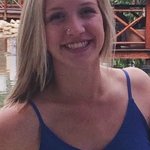 Emily Kenney
Hi there! I'm a proud art and design student at The Ohio State University. I've practiced many art mediums, but my favorite is always painting - with oils, acrylics and watercolors. If you purchase something from my store, thank you. Feel free to send me feedback and perhaps a picture to emilykenney17@gmail.com ! :) A copyright mark is not on the work file used on this site, but the artist retains the copyright when the work is sold or otherwise transferred unless there is a written transfer of the copyright. © 2016EmilyKenney Emily Kenney joined Society6 on October 24, 2011
More
Hi there!
I'm a proud art and design student at The Ohio State University. I've practiced many art mediums, but my favorite is always painting - with oils, acrylics and watercolors.
If you purchase something from my store, thank you. Feel free to send me feedback and perhaps a picture to emilykenney17@gmail.com ! :)
A copyright mark is not on the work file used on this site, but the artist retains the copyright when the work is sold or otherwise transferred unless there is a written transfer of the copyright. © 2016EmilyKenney
Emily Kenney joined Society6 on October 24, 2011.