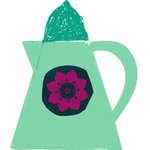 Emily Pickle
Emily Pickle is named after the daughter of designer Kate Yorke. Kate studied Surface Pattern & Textile Design at Stockport College after completing an Art Foundation at MMU. After studying, Kate worked on various design briefs for companies including Hallmark and Argos. Inspired by vintage and retro, patterns and tea pots, Kate works in a distinctive collage style, particularly suited to her tea towels, cards and prints. Kate is also a member of The Green Man Gallery – an exhibition space and studio run by a collective of local artists & craftspeople in Buxton, Derbyshire. www.emilypickle.com Emily Pickle joined Society6 on October 4, 2013
More
Emily Pickle is named after the daughter of designer Kate Yorke. Kate studied Surface Pattern & Textile Design at Stockport College after completing an Art Foundation at MMU. After studying, Kate worked on various design briefs for companies including Hallmark and Argos.
Inspired by vintage and retro, patterns and tea pots, Kate works in a distinctive collage style, particularly suited to her tea towels, cards and prints.
Kate is also a member of The Green Man Gallery – an exhibition space and studio run by a collective of local artists & craftspeople in Buxton, Derbyshire.
www.emilypickle.com
Emily Pickle joined Society6 on October 4, 2013.