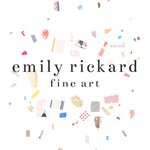 Emily Rickard
Hello I'm Emily Rickard! I studied fine art and art history at the Columbus College of Art & Design in Columbus, Ohio where I currently live & work as an artist and designer.
My love of color is conveyed through my vibrant abstract paintings and mixed media works. A visual expression of joy, my work blends a bright Pop art palette with aesthetics of Abstract Expressionism and a studied appreciation for composition. I love to make art that makes people smile and I strongly believe that living with beautiful art makes for happier people!
For more work visit my blog: www.emmyrickard.com Artfully Walls: http://www.artfullywalls.com/artists/396/emily-rickard Pinterest @emmyrickard Instagram @emilycrickard
All artwork ©Emily Rickard 2019 All rights reserved.
Read more