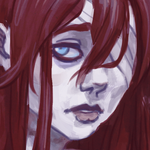 EmilyThrowsPaint
I am Emily, an artist of a myriad of mediums. I love illustration, narrative art, animation, graphic novels & web comics most of all. My favourite kind of work is colourful but a little dark, a tad chaotic, and slightly edgy. I am very passionate about themes related to gender, identity, individuality, mental or physical illness (especially invisible illnesses), and unconventional beauty. EmilyThrowsPaint joined Society6 on July 21, 2014
More
I am Emily, an artist of a myriad of mediums.
I love illustration, narrative art, animation, graphic novels & web comics most of all. My favourite kind of work is colourful but a little dark, a tad chaotic, and slightly edgy. I am very passionate about themes related to gender, identity, individuality, mental or physical illness (especially invisible illnesses), and unconventional beauty.
EmilyThrowsPaint joined Society6 on July 21, 2014.
EmilyThrowsPaint's Store
13 results
Filter