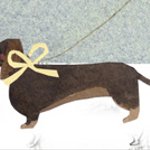 Emma Block
Emma Block is an illustrator who graduated with First Class Honours in BA Illustration at Middlesex University. Her first book, Tea and Cake, came out in 2011, and she is currently working on her second children's book. She likes charity shops, tea and very sharp pencils.
Emma's work is inspired by the people she meets in her everyday life, old photos, vintage clothes, travel, 1950s illustration and 1930s jazz. She has worked for clients including Harper Collins, Hardie Grant, Hand in Hand Soap, Blue Apple Books,The British Heart Foundation, Rokit, Time Out, Woodmansterne, Hallmark, American Greetings and Moo. She will be featured in the upcoming publications The AOI Images 36, Illustrating Children's Books and the Lost in London Book.
She also enjoys writing and has written for The Guardian, Lionheart Magazine, Amelia's Magazine and The Young Creatives.
She is available for commissions and other nice things. Contact at emmablock@hotmail.com.
Read more