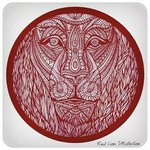 Red Lion Illustration
Red Lion Illustration is a Birmingham (UK) based Illustration and Design business created and ran by Emma Lyons. After achieving a First class BA(Hons) in Visual Communiction, specialising in Illustration, she has focused primarily on surface design and prints. Red Lion Illustration produces work for both businesses as well as the indivudual customer. They are also open to collaborative projects with other creatives. www.facebook.com/redlionillustration Red Lion Illustration joined Society6 on January 14, 2012
More
Red Lion Illustration is a Birmingham (UK) based Illustration and Design business created and ran by Emma Lyons. After achieving a First class BA(Hons) in Visual Communiction, specialising in Illustration, she has focused primarily on surface design and prints. Red Lion Illustration produces work for both businesses as well as the indivudual customer. They are also open to collaborative projects with other creatives.
www.facebook.com/redlionillustration
Red Lion Illustration joined Society6 on January 14, 2012.