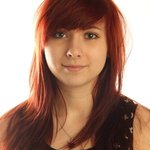 EmmaNixon92
I am currently a second year student on a Graphic Arts and Design course at Leeds Metropolitan University. I produce work in the illustration field. I enjoy using mediums ranging from pencil to Photoshop. I have recently discovered that I adore creating digital art; I am currently exploring the potential in this area. I am happy to take on commissions. EmmaNixon92 joined Society6 on October 8, 2013
More
I am currently a second year student on a Graphic Arts and Design course at Leeds Metropolitan University. I produce work in the illustration field. I enjoy using mediums ranging from pencil to Photoshop. I have recently discovered that I adore creating digital art; I am currently exploring the potential in this area.
I am happy to take on commissions.
EmmaNixon92 joined Society6 on October 8, 2013.