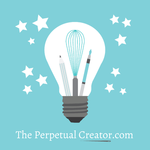 emsmith21
Ever since childhood, I've identified myself as a creator, driven by the need to constantly create, whether it be art, craft, food or music. This passion has remained constant throughout my adult life, inspiring me to obtain a bachelor's degree in studio art with a specialization in both painting in fiber. Later achieving a master's in public relations, I developed an equal passion for blogging. Bringing two of my great loves together, I created "The Perpetual Creator," an inspirational community for those of us who can't sit still. The artwork reflected here in my shop are the pieces featured on my blog. emsmith21 joined Society6 on September 21, 2016
More
Ever since childhood, I've identified myself as a creator, driven by the need to constantly create, whether it be art, craft, food or music. This passion has remained constant throughout my adult life, inspiring me to obtain a bachelor's degree in studio art with a specialization in both painting in fiber.
Later achieving a master's in public relations, I developed an equal passion for blogging. Bringing two of my great loves together, I created "The Perpetual Creator," an inspirational community for those of us who can't sit still.
The artwork reflected here in my shop are the pieces featured on my blog.
emsmith21 joined Society6 on September 21, 2016.