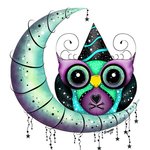 EnchantedDesignStudio
Concetta is a multi-talented freelance artist, illustrator and designer. Currently she lives in Pennsylvania with her two children, two dogs and two sphynx cats. What she says about her experiences: My family is a great source of inspiration and encouragement to me. They are very supportive of the insanely crazy hours I keep and do their best to help promote me and give me new ideas. We are blessed to live out in the country. There is so much inspiration in nature and being outdoors. It widens your perspective. Painting is my passion and I love to bring a little piece of my imagination to everyone through my art. Sometimes they are quirky little owls and other times a realistic horse portrait - whatever seems to strike me at the moment...I just run with it. I work in both digital design and traditional painting including graphite, watercolor, acrylics, colored pencil, and mixed media. I love an array of styles from fantasy, realistic, whimsical, pet portraits, and animal and wildlife art. I don't like being bound to one area. My mind is much more at ease exploring, dabbling, and trying new artistic adventures. For more information on me come and visit my website at www.concettakilmer.com or take a minute to peruse my little online store. Thank you for taking time to learn about me and my art! Have a blessed day and may the winds of inspiration and imagination always guide your sails. ~Concetta EnchantedDesignStudio joined Society6 on June 6, 2014
More
Concetta is a multi-talented freelance artist, illustrator and designer. Currently she lives in Pennsylvania with her two children, two dogs and two sphynx cats. What she says about her experiences: My family is a great source of inspiration and encouragement to me. They are very supportive of the insanely crazy hours I keep and do their best to help promote me and give me new ideas. We are blessed to live out in the country. There is so much inspiration in nature and being outdoors. It widens your perspective.
Painting is my passion and I love to bring a little piece of my imagination to everyone through my art. Sometimes they are quirky little owls and other times a realistic horse portrait - whatever seems to strike me at the moment...I just run with it.
I work in both digital design and traditional painting including graphite, watercolor, acrylics, colored pencil, and mixed media.
I love an array of styles from fantasy, realistic, whimsical, pet portraits, and animal and wildlife art. I don't like being bound to one area. My mind is much more at ease exploring, dabbling, and trying new artistic adventures.
For more information on me come and visit my website at www.concettakilmer.com or take a minute to peruse my little online store.
Thank you for taking time to learn about me and my art! Have a blessed day and may the winds of inspiration and imagination always guide your sails. ~Concetta
EnchantedDesignStudio joined Society6 on June 6, 2014.