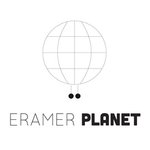 ERAMERS
Planet ERAMER Creatures called ERAMERS live on the planet ERAMER and they represent summarized parts of the history of contemporary visual culture. With this idea we want to present our visual culture and its evolution over time in a fresh way. We can use these characters as design pieces or educational tools with this approach. Every one of us has a way of being, a personality shown by our preferences, we look for identification through different ERAMERS. Each person will choose one or more characters in the universe of planet ERAMER. Which ERAMER do you identify yourself with? ERAMERS joined Society6 on November 27, 2013
More
Planet ERAMER
Creatures called ERAMERS live on the planet ERAMER and they represent summarized parts of the history of contemporary visual culture.
With this idea we want to present our visual culture and its evolution over time in a fresh way.
We can use these characters as design pieces or educational tools with this approach.
Every one of us has a way of being, a personality shown by our preferences, we look for identification through different ERAMERS. Each person will choose one or more characters in the universe of planet ERAMER.
Which ERAMER do you identify yourself with?
ERAMERS joined Society6 on November 27, 2013.