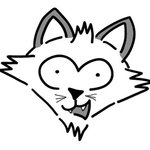 ergatto
Hi my name is Giuseppe Lentini. I am a graphic, illustrator, webdesigner. I like animation and painting. That's all :b Have a nice day and smile life! ----------------------------------------------------------------------------------------------- About ERGATTOSAGGIO (The wise cat) "Detti mai detti" (proverbs never heard) Aphorisms and proverbs from the wise cats of Rome. ----------------------------------------------------------------------------------------------- (If you like these comics and you need some different illustration that you don't see in my shop, I can draw it for you gladly. Feel free to send me a message) (mail: giuseppelen@alice.it) ----------------------------------------------------------------------------------------------- see also: THE SBIRU's WORLD > https://society6.com/giuseppelentini ergatto joined Society6 on December 21, 2016
More
Hi my name is Giuseppe Lentini. I am a graphic, illustrator, webdesigner. I like animation and painting. That's all :b Have a nice day and smile life!
About ERGATTOSAGGIO (The wise cat) "Detti mai detti" (proverbs never heard) Aphorisms and proverbs from the wise cats of Rome.
(If you like these comics and you need some different illustration that you don't see in my shop, I can draw it for you gladly. Feel free to send me a message) (mail: giuseppelen@alice.it)
see also: THE SBIRU's WORLD > https://society6.com/giuseppelentini
ergatto joined Society6 on December 21, 2016.