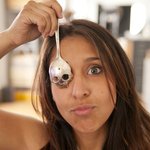 Erica Guajardo Illustrations
ERICA GUAJARDO'S ARTIST STATEMENT MY ART IS A PHYSICAL, EMOTIONAL, AND INSPIRATIONAL STATEMENT OF MOVEMENT USING TEXTURE AND RHYTHM THROUGH ILLUSTATRATIONS. EXPLORING THE MADNESS OF BIOMEDICINE I JOURNEY THROUGH MY ARTISTIC TEMPERAMENT. OPPOSITE MOODS AND ENERGIES ARE DEPICTED WITH COLOR AND WITH BLACK AND WHITE. MY COLLECTION IS INSPIRED FROM VIEWS OF STREET ART, INTERIOR DESIGN, AND FASHION. MEDIUMS IN THE COLLECTION ARE CHOSEN TO PUSH BOUNDARIES AND CREATE AMBIGUITY. EACH IMAGE IS CREATED TO LEAD THE VIEWER TO THINK ABOUT THE JUXTAPOSITION OF MOVEMENT AND INSPIRATION. Erica Guajardo Illustrations joined Society6 on October 30, 2013
More
ERICA GUAJARDO'S ARTIST STATEMENT
MY ART IS A PHYSICAL, EMOTIONAL, AND INSPIRATIONAL STATEMENT OF MOVEMENT USING TEXTURE AND RHYTHM THROUGH ILLUSTATRATIONS. EXPLORING THE MADNESS OF BIOMEDICINE I JOURNEY THROUGH MY ARTISTIC TEMPERAMENT. OPPOSITE MOODS AND ENERGIES ARE DEPICTED WITH COLOR AND WITH BLACK AND WHITE.
MY COLLECTION IS INSPIRED FROM VIEWS OF STREET ART, INTERIOR DESIGN, AND FASHION. MEDIUMS IN THE COLLECTION ARE CHOSEN TO PUSH BOUNDARIES AND CREATE AMBIGUITY. EACH IMAGE IS CREATED TO LEAD THE VIEWER TO THINK ABOUT THE JUXTAPOSITION OF MOVEMENT AND INSPIRATION.
Erica Guajardo Illustrations joined Society6 on October 30, 2013.