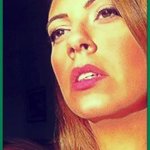 Erica Putis
www.ericaputisart.com
Colors and different mediums are the cornerstones of Erica Putis' artwork. She wants her audience to be able to experience her work with all of their senses. If they can do that and find enjoyment, then she is happy.
Erica Putis grew up in a small town in Vermont where the grass was green and the winters cold. During this time, she would wander for hours around her family's 20 acres, continuously in awe of nature and her surroundings. Creating was always something that happened and never stopped even when she grew up.
She would create clothes for her Barbies and sell jewelry to her fellow 4th graders. She would win drawing contests and illustrate peers stories. In high school Erica refined her craft and ventured into wood sculpture, painting, realist drawings and intricate beading work. It was at 18 she sold her first art piece to her high school, which would be the first in their private collection. She contemplated going to college for art but decided to venture into music and theater. It wasn't until almost 15 years later that she decided to pick up her paint brush again.
This time the perfectionist in her was more well balanced. Erica's love of detail can still be seen in her work but there a touch of carefree that keeps her captivated and motivated. She's not afraid of color and experimenting with her style, often working with different mediums. She still draws on her love of nature, science and beauty and hopes that others find as much enjoyment out of her work as she does.
Read more