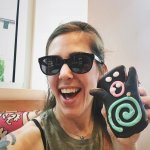 Erica Varlese
Hi! I'm Erica. By morning, I'm a Crossfit athlete. By day, I work in the internet policy field. And whenever I can, I like taking pictures and sharing them with the world.
You can see more of my photos, fitness, and travel at http://erica.blog
Read more
Erica Varlese's Store
Filter
You are currently on society6.com.