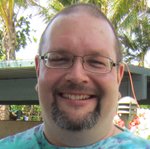 Eric Pauker
I am the author of the Infinite Divergence series of books. The following page on my blog will help you find my books online: http://ericpauker.net/blog/where-to-find-my-books/
My Facebook page is where I highlight everything I create.
My current work is much different from my first job, which was as a programmer writing video games. I spent most of my life working as a programmer to make money, while photography, writing, and artwork were my hobbies.
Now I am focusing on the artistic side of my talents. I have spent years creating fractal art and taking photographs, but never did anything with them. Many people have told me I should sell my work so I started with the writing since I had many short stories that tied together into a much larger universe of stories.
Now that I have a solid foundation for my books, I have decided to start releasing my other works to the world.
All designs copyright © Eric Pauker. All rights reserved.
Read more
Eric Pauker's Store
Filter