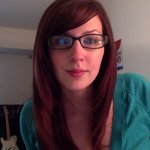 Erika Noel Design
Honing her skills as an artist and designer at Eastern Michigan University, Erika graduated with a Bachelors of Fine Arts degree with a concentration in graphic design. Inspired by color theory, pattern, intricate illustration, hand drawn lettering, clean typography, conceptual design and technology, Erika's continual interest and enthusiasm for all things design cannot go unnoticed. Erika is currently working as a graphic designer at Brandhaus while taking on additional freelance clients! Erika Noel Design joined Society6 on April 5, 2012
More
Honing her skills as an artist and designer at Eastern Michigan University, Erika graduated with a Bachelors of Fine Arts degree with a concentration in graphic design. Inspired by color theory, pattern, intricate illustration, hand drawn lettering, clean typography, conceptual design and technology, Erika's continual interest and enthusiasm for all things design cannot go unnoticed.
Erika is currently working as a graphic designer at Brandhaus while taking on additional freelance clients!
Erika Noel Design joined Society6 on April 5, 2012.