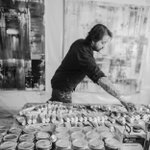 Spencer Rogers Fine Art
Spencer Rogers creates original works of modern abstract art that showcase a use of color in motion. Using his sensitivity to, and appreciation for sonic energy, he has developed a unique process in which he interprets sound into visual art.
He began his education here in Chicago, studying painting and photography at Loyola Academy and graduated with a BA in Fine Arts at the University of San Diego. It was there he took his junior year to study abroad at the Art Institute of Florence in Italy. This time specifically inspired Spencer as the program continually encouraged limitless creative freedom. Spencer additionally spent time traveling as a professional musician while living in Los Angeles. These elements combined formed Spencer into the artist he is today; merging all his creative talents: painting, photography and music. Inspired by the great Gerhard Richter and grateful for the emotion evoked by the love of his family, Spencer, his wife and son moved back to settle in Chicago. Spencer Rogers Fine Art was born.
Spencer's painting style has evolved out of his passion for both art and music. With music loudly filling his studio, he visually interprets the sound he hears, and feels, providing a unique approach to each canvas on which an original, one of kind work is created. Spencer's paintings are wildly choreographed "concerts on canvas" that intend to spread joy while inspiring thinking on the nature of energy, reality, and the human experience. His work provides a unique, ever changing focus to interpret individually and enjoy repeatedly.
And BTW he's charming, handsome, and hilarious:) Go Cubs!
Read more