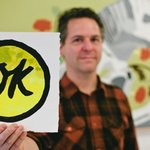 Erik Railton
Painting for me brings back good memories. My painting reflects different times of my life and the memories associated with them. Growing up in the northwest I found myself spending time outside in nature . The thought of those times defines my life and I find myself comforted when I reflect on them. I'm also very interested in lines and color. The manipulation of the two can make a painting interesting or just average. I enjoy putting different colors and shapes together. Somehow these two pieces of memories and technique come together to form my paintings. I have shown in galleries in Portland, Seattle, San Francisco and New York. Erik Railton joined Society6 on June 9, 2014
More
Painting for me brings back good memories. My painting reflects different times of my life and the memories associated with them. Growing up in the northwest I found myself spending time outside in nature . The thought of those times defines my life and I find myself comforted when I reflect on them.
I'm also very interested in lines and color. The manipulation of the two can make a painting interesting or just average. I enjoy putting different colors and shapes together. Somehow these two pieces of memories and technique come together to form my paintings.
I have shown in galleries in Portland, Seattle, San Francisco and New York.
Erik Railton joined Society6 on June 9, 2014.
Erik Railton's Store
20 results
Filter