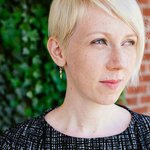 Erin Cooper
I've been drawing or painting most of my life. I'm a graphic designer, and I view art through that lens. My paintings allow me to be explore color combinations that I don't always get to play with in the professional world. I started painting regularly as a way to relax and unwind. I wanted to take moments and memories, and sort of crystallize them on a basic, and almost cellular (or pixel sized) level.
I paint with acrylics almost exclusively, but I like to experiment with ink, pencil, and pastels. I've admired abstract expressionism and many of the artists in that genre have influenced my work for most of my life. My current style evolved while I was trying to train myself to master balance in my work. I treat the strokes like a grid and move light around until it flows well, or creates a story.
Every time I experience something amazing, I always try to find a simple detail that pertains to that moment, and fix that image in my memory as a way to make it more real for myself. A street corner, a sign, a vignette... I like to just take in that teaspoon of information and memorize everything I can about it. My paintings are my versions of those moments.
Read more