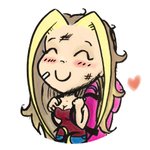 Erin Reki
Hi and welcome to my shop! Here you will find art pieces and designs inspired by beautiful things and touching moments from years of travelling. If you have a passion for watercolours, the minimalistic and natural world, this is the right shop for you. Bring the simple joys of splashes of colour into your home & life! If you have any questions, please feel free to message me. Have an awesome day! https://www.instagram.com/erinreki01/ https://erinreki.com http://www.facebook.com/erinreki Erin Reki joined Society6 on December 27, 2012
More
Hi and welcome to my shop! Here you will find art pieces and designs inspired by beautiful things and touching moments from years of travelling. If you have a passion for watercolours, the minimalistic and natural world, this is the right shop for you. Bring the simple joys of splashes of colour into your home & life! If you have any questions, please feel free to message me. Have an awesome day!
https://www.instagram.com/erinreki01/
https://erinreki.com
http://www.facebook.com/erinreki
Erin Reki joined Society6 on December 27, 2012.