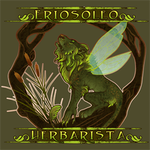 Eriosoleo Herbarista
Eriosoleo Herbarista ("Faerie Lion Herbalist") specializes in natural, handmade products to nurture the mind, body, and spirit for any Earth loving traveler. Run by a dismally dark Deer graphic designer, and a vivaciously creative Lion-headed artist; our hope is to spread a bit of the wonderful energy and healing our natural world can provide. For more of our products visit - http://eriosoleoherbarista.storenvy.com and https://www.etsy.com/shop/eriosoleoherbarista Eriosoleo Herbarista joined Society6 on December 29, 2014
More
Eriosoleo Herbarista ("Faerie Lion Herbalist") specializes in natural, handmade products to nurture the mind, body, and spirit for any Earth loving traveler. Run by a dismally dark Deer graphic designer, and a vivaciously creative Lion-headed artist; our hope is to spread a bit of the wonderful energy and healing our natural world can provide.
For more of our products visit - http://eriosoleoherbarista.storenvy.com and https://www.etsy.com/shop/eriosoleoherbarista
Eriosoleo Herbarista joined Society6 on December 29, 2014.
Eriosoleo Herbarista's Store
18 results
Filter