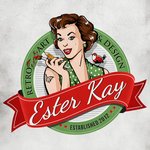 EsterKay
I'm a freelance graphic designer and illustrator, working and living in Zagreb, Croatia. Vintage style was something that I've always been drawn to and in the last 10 years it became more and more apparent in the work I've been doing, whether it was graphic design or illustration. There is something so romantic about old things; retro design brings feelings of the old days when life was much simpler, it takes us to those sweet and memorable days when life was more relaxed. The work presented here is all about fun, laughter, happiness, joy of living…spreading positivity and making life bright. The inspiration comes from the 50s, 60s and 70s – it is a fun mix of bright and bold colors but also some pieces are taking you back, way back and have a full vintage feel. Combining retro style with humor, fun, positive inspiration in the service of good times, good feelings and just pure good old fun! Enjoy! Ester Facebook: www.facebook.com/EsterKayArt Instagram: https://www.instagram.com/ester.kay.art/ EsterKay joined Society6 on March 28, 2016
More
I'm a freelance graphic designer and illustrator, working and living in Zagreb, Croatia. Vintage style was something that I've always been drawn to and in the last 10 years it became more and more apparent in the work I've been doing, whether it was graphic design or illustration. There is something so romantic about old things; retro design brings feelings of the old days when life was much simpler, it takes us to those sweet and memorable days when life was more relaxed.
The work presented here is all about fun, laughter, happiness, joy of living…spreading positivity and making life bright. The inspiration comes from the 50s, 60s and 70s – it is a fun mix of bright and bold colors but also some pieces are taking you back, way back and have a full vintage feel. Combining retro style with humor, fun, positive inspiration in the service of good times, good feelings and just pure good old fun!
Enjoy! Ester
Facebook: www.facebook.com/EsterKayArt
Instagram: https://www.instagram.com/ester.kay.art/
EsterKay joined Society6 on March 28, 2016.