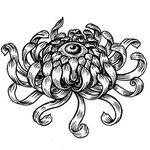 Esther Coonfield
Esther is an illustrator based in Philadelphia, PA. She earned her BFA in illustration at Syracuse University. She really likes fairy tales, loud metal music, and bodybuilding. She also has an unhealthy addiction to peanut butter. When she's not in the studio, Esther is probably in the gym getting her swole on. If you're interested in hiring her for a job or commission, please feel free to contact her via email at esthercoonfieldart@gmail.com. And if you like what you see here, check out the rest of her work at esthercoonfield.com. Thanks for visiting! Esther Coonfield joined Society6 on June 4, 2014
More
Esther is an illustrator based in Philadelphia, PA. She earned her BFA in illustration at Syracuse University. She really likes fairy tales, loud metal music, and bodybuilding. She also has an unhealthy addiction to peanut butter. When she's not in the studio, Esther is probably in the gym getting her swole on.
If you're interested in hiring her for a job or commission, please feel free to contact her via email at esthercoonfieldart@gmail.com. And if you like what you see here, check out the rest of her work at esthercoonfield.com. Thanks for visiting!
Esther Coonfield joined Society6 on June 4, 2014.
Esther Coonfield's Store
47 results
Filter