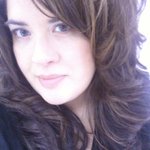 E.T.Creations
Elizabeth completed her degree in Art at Pittsburg State University in 2005 and then went on to complete a Masters in Art Education at Missouri State University and Missouri Southern State University in 2007. Elizabeth teaches 7th and 8th grade art ( check out Facebook page: CJJH Art Class) in MO. She feels that art is essential for all students' education. She encourages her students to think outside of the box and to think beyond their horizen when creating art. Elizabeth enjoys a varitey of mediums like clay, watercolor, acrylic and mix media art. She also believes that "art is an exploration of the soul and that creating art is a personal experience of that exploration". She is inspired by other artist's like Robert Rauschenberg, Jackson Pollock, Ed Ruscha and Marjorie Schick. Through the years of her exploration in art, her art has changed from a more traditional style to a contemporary abstract style which she feels most comfortable in. Elizabeth stays current on art theory, art movements and enjoys both creating art and viewing artworks. Elizabeth is a believer, a mother, a daughter, a sister, a friend a teacher and an artist. E.T.Creations joined Society6 on August 26, 2012
More
Elizabeth completed her degree in Art at Pittsburg State University in 2005 and then went on to complete a Masters in Art Education at Missouri State University and Missouri Southern State University in 2007.
Elizabeth teaches 7th and 8th grade art ( check out Facebook page: CJJH Art Class) in MO. She feels that art is essential for all students' education. She encourages her students to think outside of the box and to think beyond their horizen when creating art.
Elizabeth enjoys a varitey of mediums like clay, watercolor, acrylic and mix media art. She also believes that "art is an exploration of the soul and that creating art is a personal experience of that exploration". She is inspired by other artist's like Robert Rauschenberg, Jackson Pollock, Ed Ruscha and Marjorie Schick.
Through the years of her exploration in art, her art has changed from a more traditional style to a contemporary abstract style which she feels most comfortable in. Elizabeth stays current on art theory, art movements and enjoys both creating art and viewing artworks.
Elizabeth is a believer, a mother, a daughter, a sister, a friend a teacher and an artist.
E.T.Creations joined Society6 on August 26, 2012.
E.T.Creations's Store
8 result
Filter