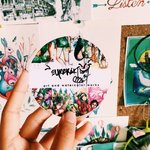 eurekart
Greetings ! was born in a family with a passion of art ; my mom is an art teacher and my dad loves painting . despite my hectic schedules as a full-time architecture student , i still appreciate every wonderful opportunity to create something beautiful with my own hands . it's always a great pleasure to bring out some pieces of my heart and twirls of my imagination into something wonderful and above all to be able sharing it to the world . I believe in #chasingdreams . "eurekart" comes from 'eureka' ; a nickname given to me during my high school years . joining both the name with something that i am passionate about ; art would mean that u have found ME through my arts :) i'm looking for inspiration in animations , literature , music , nature . ( animals , plants starry night , anything that glows! ) (no good in realistic paintings/potraits) #chasingdreams eurekart joined Society6 on August 31, 2015
More
Greetings !
was born in a family with a passion of art ; my mom is an art teacher and my dad loves painting . despite my hectic schedules as a full-time architecture student , i still appreciate every wonderful opportunity to create something beautiful with my own hands . it's always a great pleasure to bring out some pieces of my heart and twirls of my imagination into something wonderful and above all to be able sharing it to the world . I believe in #chasingdreams .
"eurekart" comes from 'eureka' ; a nickname given to me during my high school years . joining both the name with something that i am passionate about ; art would mean that u have found ME through my arts :)
i'm looking for inspiration in animations , literature , music , nature . ( animals , plants starry night , anything that glows! ) (no good in realistic paintings/potraits)
#chasingdreams
eurekart joined Society6 on August 31, 2015.