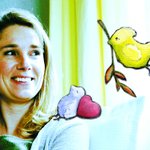 Eva Lundberg
Working with pictures and creating art is amazing! From a thought, I allow emotions and inspiration to control the composition, color and shape. A surprising game! Making paintings in watercolor and acrylic or creating digital art is a great pleasure that went hand in hand with the business of my company for 15 years, where I offered web design, image services, illustration and graphic design. Now I work part-time as a teacher and can devote myself to the artistic side. As far as my artistic practice is concerned, I am autodidact, in addition to university courses in image creation, photography, imagery and visual communication. I feel it's hard to call myself an artist, although much in my life is just about the artistic ... I have enjoyed creating and painting as long as I can remember. It has always been an alternative way of expressing me, even with some effort. Often my paintings have mirrored my phases in life - introverted motifs with sharp and precise shapes in the teens, gentle soothing scenery over the years with toddlers, to turn into increasingly colorful and imaginative motifs over the years. A joyful experimentation has evolved over time in my art. Different materials and techniques are tested through a chosen theme or form as a framework. At the moment, I paint in watercolor and acrylic in clear colors. And work with different types of collage, both physical, digital and a combination of both. Please visit www.evalundberg.com for more information! Eva Lundberg joined Society6 on January 4, 2016
More
Working with pictures and creating art is amazing!
From a thought, I allow emotions and inspiration to control the composition, color and shape. A surprising game!
Making paintings in watercolor and acrylic or creating digital art is a great pleasure that went hand in hand with the business of my company for 15 years, where I offered web design, image services, illustration and graphic design. Now I work part-time as a teacher and can devote myself to the artistic side.
As far as my artistic practice is concerned, I am autodidact, in addition to university courses in image creation, photography, imagery and visual communication. I feel it's hard to call myself an artist, although much in my life is just about the artistic ...
I have enjoyed creating and painting as long as I can remember. It has always been an alternative way of expressing me, even with some effort. Often my paintings have mirrored my phases in life - introverted motifs with sharp and precise shapes in the teens, gentle soothing scenery over the years with toddlers, to turn into increasingly colorful and imaginative motifs over the years.
A joyful experimentation has evolved over time in my art. Different materials and techniques are tested through a chosen theme or form as a framework. At the moment, I paint in watercolor and acrylic in clear colors. And work with different types of collage, both physical, digital and a combination of both.
Please visit www.evalundberg.com for more information!
Eva Lundberg joined Society6 on January 4, 2016.
Vneck Tshirts by Eva Lundberg
1 results
Filter