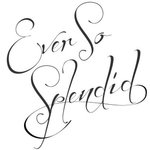 Ever So Splendid
Welcome! Thanks of stopping by. I love creating patterns for fabrics and textiles. Everything on Ever So Splendid is hand illustrated by me, Lindsey Fowler in our little colonial in Hudson, Ohio. You can also find these patterns in a variety of fabrics by the yard on my Spoonflower page: http://www.spoonflower.com/profiles/eversosplendid I blog about crafting, quilting and renovating our 1870's era home on my blog: http://www.eversosplendid.com Ever So Splendid joined Society6 on April 27, 2014
More
Welcome! Thanks of stopping by. I love creating patterns for fabrics and textiles. Everything on Ever So Splendid is hand illustrated by me, Lindsey Fowler in our little colonial in Hudson, Ohio.
You can also find these patterns in a variety of fabrics by the yard on my Spoonflower page: http://www.spoonflower.com/profiles/eversosplendid
I blog about crafting, quilting and renovating our 1870's era home on my blog: http://www.eversosplendid.com
Ever So Splendid joined Society6 on April 27, 2014.