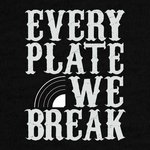 everyplatewebreak
Hello! We are everyplatewebreak. We design things we'd like to wear ourselves then offer them for you to buy as well. It's so simple it could work. It's great when you buy our stuff, but we're honestly just as happy if you tell us you like what we're doing. We're filthy attention whores, I'm afraid, so a repin, a like or even a good old thumbs up is cool with us. everyplatewebreak joined Society6 on September 24, 2016
More
Hello!
We are everyplatewebreak. We design things we'd like to wear ourselves then offer them for you to buy as well. It's so simple it could work.
It's great when you buy our stuff, but we're honestly just as happy if you tell us you like what we're doing. We're filthy attention whores, I'm afraid, so a repin, a like or even a good old thumbs up is cool with us.
everyplatewebreak joined Society6 on September 24, 2016.