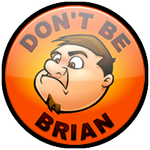 EvilTwinBrian
A fan of many geeky things, like video games, RPGs, comics, Star Wars (and sci-fi in general), and anime. I'm also a fan of martial arts (which, of course, covers classic kung fu movies), and modern fight sports including MMA, Boxing and Muay Thai. Gamer, Comic Nerd, Martial Arts Geek, Artist, Dangerously Cheesy. EvilTwinBrian joined Society6 on April 1, 2013
More
A fan of many geeky things, like video games, RPGs, comics, Star Wars (and sci-fi in general), and anime. I'm also a fan of martial arts (which, of course, covers classic kung fu movies), and modern fight sports including MMA, Boxing and Muay Thai.
Gamer, Comic Nerd, Martial Arts Geek, Artist, Dangerously Cheesy.
EvilTwinBrian joined Society6 on April 1, 2013.