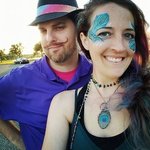 Sarah E. McIntyre
Welcome to my little store! My tastes vary depending on my mood which is reflected in my listings. I am a studio artist, face painter, and henna artist, married to a man that grounds my chaos, and a mom to a sweet natured baby boy and beautiful little girl. We currently live in Brenham, Texas renovating a 1950's house into an original art house. I love creating things of beauty. My medium of choice depends upon the moment but the usuals are prismacolors and markers, oil painting, or collage with paper. Otherwise I am exploring the world with Greyson and Adelyn, working on our house, brainstorming new ideas with Nick, my husband, visiting with my family and friends, or reading a good book. I graduated with a BFA in studio art in 2008, from Sam Houston State University. One of my favorite mediums to work in is collage (using magazine paper), but I go through fazes where I love to paint. If you have questions about how I made something, or what techniques I use feel free to ask. I also update what I am working on pretty regularly on Instagram (Exaggerface), Facebook (Clouded Dreams Studio and Exaggerface) my blog site www.cloudeddreamsstudio.wordpress.com if you are interested check it out. Thanks for stopping in! Sarah E. McIntyre joined Society6 on June 15, 2016
More
Welcome to my little store! My tastes vary depending on my mood which is reflected in my listings. I am a studio artist, face painter, and henna artist, married to a man that grounds my chaos, and a mom to a sweet natured baby boy and beautiful little girl. We currently live in Brenham, Texas renovating a 1950's house into an original art house. I love creating things of beauty. My medium of choice depends upon the moment but the usuals are prismacolors and markers, oil painting, or collage with paper. Otherwise I am exploring the world with Greyson and Adelyn, working on our house, brainstorming new ideas with Nick, my husband, visiting with my family and friends, or reading a good book.
I graduated with a BFA in studio art in 2008, from Sam Houston State University. One of my favorite mediums to work in is collage (using magazine paper), but I go through fazes where I love to paint. If you have questions about how I made something, or what techniques I use feel free to ask. I also update what I am working on pretty regularly on Instagram (Exaggerface), Facebook (Clouded Dreams Studio and Exaggerface) my blog site www.cloudeddreamsstudio.wordpress.com if you are interested check it out. Thanks for stopping in!
Sarah E. McIntyre joined Society6 on June 15, 2016.
Sarah E. McIntyre's Store
33 results
Filter