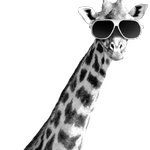 Exclusivity
My specialty are ideas associated with the former USSR and Eastern Europe in general. What makes me different from literally everyone else who offers similar ideas in a similar niche? It's quite simple, actually! All of my designs are NOT conventional nor what most people would expect from someone specializing in "Russian/Soviet" stuff. Slogans are always very edgy, up-to-date. Juxtaposition of opposing elements at its best. See my artist page on Facebook, aptly titled: CRAZY RUSSIANS DESIGN. https://www.facebook.com/CrazyRussians Exclusivity joined Society6 on December 28, 2015
More
My specialty are ideas associated with the former USSR and Eastern Europe in general.
What makes me different from literally everyone else who offers similar ideas in a similar niche? It's quite simple, actually! All of my designs are NOT conventional nor what most people would expect from someone specializing in "Russian/Soviet" stuff. Slogans are always very edgy, up-to-date. Juxtaposition of opposing elements at its best.
See my artist page on Facebook, aptly titled: CRAZY RUSSIANS DESIGN.
https://www.facebook.com/CrazyRussians
Exclusivity joined Society6 on December 28, 2015.