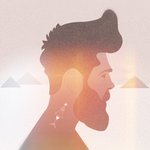 chyworks
Working as an art director in the publishing industry does not stop Chy pursuing his dream as a digital illustrator. Chyworks is his ongoing digital project which showcases the latest selection of his illustrations. Chy's work encompasses simple shapes, understated colors, pale gradients and hand-drawn lines. This takes his art to worlds where everything is possible and leads his viewers to a dream-like journey filled with hidden surprises. Chy creates all his illustrations with his ipad and a vector app. Pairing this device and app together enables him to draw everywhere he goes with any canvas size he wants his artworks to be. Find out more about me here: http://blog.redbubble.com/2015/05/featured-artist-chyworks/?ref=home chyworks joined Society6 on March 9, 2012
More
Working as an art director in the publishing industry does not stop Chy pursuing his dream as a digital illustrator. Chyworks is his ongoing digital project which showcases the latest selection of his illustrations.
Chy's work encompasses simple shapes, understated colors, pale gradients and hand-drawn lines. This takes his art to worlds where everything is possible and leads his viewers to a dream-like journey filled with hidden surprises.
Chy creates all his illustrations with his ipad and a vector app. Pairing this device and app together enables him to draw everywhere he goes with any canvas size he wants his artworks to be.
Find out more about me here: http://blog.redbubble.com/2015/05/featured-artist-chyworks/?ref=home
chyworks joined Society6 on March 9, 2012.
Cases Tough Case by chyworks
0 result
Filter