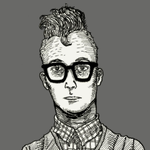 Fabio Vermelho
I'm Fabio Vermelho, a brazilian illustration artist who is highly influenced by the sci-fi, horror, 50s rock n roll stuff and other strange things. I was used to drink coffee while drawing at dawn, but nowadays I can't do it anymore. I collect matchboxes, notebooks and shadows under my eyes. "EXTRA! EXTRA! Robots, aliens, werewolves, strange people, monsters, sci-fi, vintage, comics and so on; weird illustrations for weird people! Just the ugliest drawings about the shittiest themes!" Fabio Vermelho joined Society6 on May 19, 2014
More
I'm Fabio Vermelho, a brazilian illustration artist who is highly influenced by the sci-fi, horror, 50s rock n roll stuff and other strange things. I was used to drink coffee while drawing at dawn, but nowadays I can't do it anymore. I collect matchboxes, notebooks and shadows under my eyes.
"EXTRA! EXTRA! Robots, aliens, werewolves, strange people, monsters, sci-fi, vintage, comics and so on; weird illustrations for weird people! Just the ugliest drawings about the shittiest themes!"
Fabio Vermelho joined Society6 on May 19, 2014.
Fabio Vermelho's Store
78 results
Filter