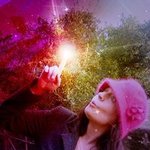 Faëdou
Self-Taught artist and author, my main theme of work is Fantasy. I perform Energy painting, Fractal manipulation, mandalas, traditional & digital painting, and photo manipulation. Thank you for your visit and interest in my work! I AM AVAILABLE FOR COMMISSIONS : Mandalas / Book Covers / Photomanipulations/ Energy painting / Fractal manipulations. (Paypal commissions) - Contact : gabstorm@gmail.com You can also follow my art on : Facebook : https://www.facebook.com/BlueFaedou/ Twitter : https://twitter.com/Bluefaedou Author Interviews : https://www.actualitte.com/article/interviews/fae-storm-dans-l-ecriture-on-ne-peut-pas-tout-planifier/61848 http://blog.iggybook.com/entry/fae-storm-la-saga-fantasy-renaissance Author Page - Discover my books : http://faestorm.iggybook.com/fr/ Artist Interview : http://blog.flyrice.com/post/115651443628/faedou-artist-interview AND NOW ON Fivver : https://www.fiverr.com/faedou Faëdou joined Society6 on November 24, 2014
More
Self-Taught artist and author, my main theme of work is Fantasy. I perform Energy painting, Fractal manipulation, mandalas, traditional & digital painting, and photo manipulation. Thank you for your visit and interest in my work!
I AM AVAILABLE FOR COMMISSIONS : Mandalas / Book Covers / Photomanipulations/ Energy painting / Fractal manipulations. (Paypal commissions) - Contact : gabstorm@gmail.com
You can also follow my art on :
Facebook : https://www.facebook.com/BlueFaedou/
Twitter : https://twitter.com/Bluefaedou
Author Interviews : https://www.actualitte.com/article/interviews/fae-storm-dans-l-ecriture-on-ne-peut-pas-tout-planifier/61848
http://blog.iggybook.com/entry/fae-storm-la-saga-fantasy-renaissance
Author Page - Discover my books : http://faestorm.iggybook.com/fr/
Artist Interview : http://blog.flyrice.com/post/115651443628/faedou-artist-interview
AND NOW ON Fivver : https://www.fiverr.com/faedou
Faëdou joined Society6 on November 24, 2014.