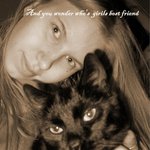 fairychamber
Artist & illustrator, Visual storyteller, mythology geek and folklore enthusiastic You will find a story behind every single of my works. Story that has developed in my mind during my painting process might be different than the story you visualize when you see my artwork and I think that is one of the greatest things in art. I love mythologies, folklore, nature and fairy tales and they are my biggest source of inspiration. I am originally from northern Finland I currently live in the UK surrounded by green hills of Wales where I study children book art and illustrating (found a place that embraces my narrative painting style) You can see impacts of my both home countries in my art. Thank you for visiting and taking the time to look at my art works! My facebook https://www.facebook.com/pages/Keijukammari-fairychamber-Fantasy-art-of-Niina-Niskanen My etsy-shop with lots of originals http://www.etsy.com/shop/fairychamber fairychamber joined Society6 on October 8, 2013
More
Artist & illustrator, Visual storyteller, mythology geek and folklore enthusiastic
You will find a story behind every single of my works. Story that has developed in my mind during my painting process might be different than the story you visualize when you see my artwork and I think that is one of the greatest things in art. I love mythologies, folklore, nature and fairy tales and they are my biggest source of inspiration. I am originally from northern Finland I currently live in the UK surrounded by green hills of Wales where I study children book art and illustrating (found a place that embraces my narrative painting style) You can see impacts of my both home countries in my art. Thank you for visiting and taking the time to look at my art works!
My facebook https://www.facebook.com/pages/Keijukammari-fairychamber-Fantasy-art-of-Niina-Niskanen
My etsy-shop with lots of originals http://www.etsy.com/shop/fairychamber
fairychamber joined Society6 on October 8, 2013.