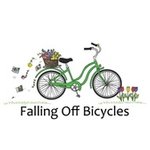 Falling Off Bicycles by Julia Willard
About Julia Born and raised in Kansas City, Missouri, Julia Willard had lived in many cities in the U.S. before moving to Paris in 2006 to pursue several loves. Her adoration for the French way of life only deepened and after completing her MBA program in Paris, she remained in the City of Love and Lights. After a few years there, she moved to Amsterdam for a new adventure, where she again fell in love with a way of life, an attitude toward life, and her new city. Through her attraction to color, light, movement, and all things beautiful, she continued to capture yet another city that had become a true home to her. Julia on Falling Off Bicycles I have always been attracted to color, to light, to beauty (who isn't?), but it wasn't until I moved to Paris and then Amsterdam that I found myself having to have a camera with me at all times to capture the way these cities had mastered each of these things. I fell in love with the richness of the cultures, the stories the streets tell, the characters I would encounter, the bicycles, the bridges, the waterways, and so much more. What good fortune I had, as my walks to the market and around town were filled with new surprises every day: a unique bike coordinating perfectly with the nearby door, Autumn leaves falling on the canals at sundown, a perfectly Dutch character holding a bouquet of tulips... It was all so romantic and charming, I just had to capture it. My bicycle added to the experience, as it increased my reach outside my little quartier or buurt. I found myself with an immense desire to share this beauty I find all around me in Europe with my friends and family, and eventually with a larger audience. In 2012, I had an undeniable urge to make this happen… to share the lovely scenes I have been privy to over the years, the scenes that mesmerize and charm visitors and locals alike. The result: Falling Off Bicycles. Falling Off Bicycles by Julia Willard joined Society6 on December 10, 2014
More
About Julia
Born and raised in Kansas City, Missouri, Julia Willard had lived in many cities in the U.S. before moving to Paris in 2006 to pursue several loves. Her adoration for the French way of life only deepened and after completing her MBA program in Paris, she remained in the City of Love and Lights. After a few years there, she moved to Amsterdam for a new adventure, where she again fell in love with a way of life, an attitude toward life, and her new city. Through her attraction to color, light, movement, and all things beautiful, she continued to capture yet another city that had become a true home to her.
Julia on Falling Off Bicycles
I have always been attracted to color, to light, to beauty (who isn't?), but it wasn't until I moved to Paris and then Amsterdam that I found myself having to have a camera with me at all times to capture the way these cities had mastered each of these things. I fell in love with the richness of the cultures, the stories the streets tell, the characters I would encounter, the bicycles, the bridges, the waterways, and so much more. What good fortune I had, as my walks to the market and around town were filled with new surprises every day: a unique bike coordinating perfectly with the nearby door, Autumn leaves falling on the canals at sundown, a perfectly Dutch character holding a bouquet of tulips... It was all so romantic and charming, I just had to capture it. My bicycle added to the experience, as it increased my reach outside my little quartier or buurt. I found myself with an immense desire to share this beauty I find all around me in Europe with my friends and family, and eventually with a larger audience. In 2012, I had an undeniable urge to make this happen… to share the lovely scenes I have been privy to over the years, the scenes that mesmerize and charm visitors and locals alike. The result: Falling Off Bicycles.
Falling Off Bicycles by Julia Willard joined Society6 on December 10, 2014.
Falling Off Bicycles by Julia Willard's Store
363 results
Filter