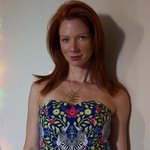 Fancy_Beast
Hello! I'm an oil painter and animal lover who recently decided to try my hand at digital illustration and design. I'm now obsessed with it. I live in Massachusetts with my husband and my two dogs, Henry and Pogue. *100% of profit I make from my Goats of Anarchy designs will be donated to Goats of Anarchy! Yay for goat rescue!* Fancy_Beast joined Society6 on October 13, 2016
More
Hello! I'm an oil painter and animal lover who recently decided to try my hand at digital illustration and design. I'm now obsessed with it. I live in Massachusetts with my husband and my two dogs, Henry and Pogue.
100% of profit I make from my Goats of Anarchy designs will be donated to Goats of Anarchy! Yay for goat rescue!
Fancy_Beast joined Society6 on October 13, 2016.