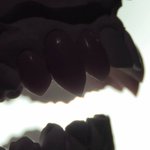 Vampyre Zen
Hi, I'm Zen! I'm the creative director and originator of FangSmith; Australia's first designers of custom, dental grade quality vampire fangs since 2016.
I love photography as self expression and have a history of keeping blogs & building websites, dance, herbalism, bdsm, sexuality and spirituality.
Follow me to see what dark, neon, rainbow, macabre shenanigans I get up to and the graphic designs that they inspire to untwirl from my twisted little brain 🖤
Visit us at www.fangsmith.com.au and on Facebook and Instagram.
Read more
Vampyre Zen's Store
Filter