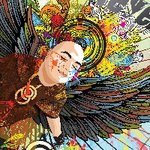 fawazo
Born in September 4th 1977, Fawaz lived all his life in Bahrain. Taking his first steps, Fawaz is an artist born in color, in culture, in a home for inspirations. Rooted to a family of artists, he has spiraled and stemmed, sprouting into the sun. "Every hobby of mine has a dream!" It starts with heroes like Spiderman and Grendizer- comics and storyboards found his appeal; side by side with horror, science fiction, and animation. Through visual intelligence, he admitted to his love in color and textures. To Fawaz, pleasure is found in stinging curves of a palm tree, even a lazy sun setting on his home island. Yet while his pleasures are silent, his expressions are loud. Not only does he think in color, Fawaz also teases the mind with music, and daring fiction. Aspirations open doors. He has awakened, and instantly realized his dreams. Fawaz is a digital artist, graphic designer, photographer, a techno DJ & producer, fiction writer, with a number of hobbies on the side. Here is one of Fawaz's many beginnings. At age 10, he won his first award for an art piece called «Monsters Cafe» at a United Nations International Art Exhibition held in China. By the age of 11, he was a certified Apple user and a year later became the first to teach Canvas in Apple Center, Bahrain. Fawaz followed the signs to study design, and majored in Visual Communication at the Art Institute International, Pittsburgh, PA, USA. Fawaz is gaining day-by-day experience and expertise in the visual arts. "Every day is an opportunity to learn something new." Fourteen years on with experience in the market and with clients like "Medina, e-promoseven & Gulf Air", Fawaz gained a corporate angle to strategic web design, original brands, portfolio development, print, digital art, and more. True to this dream, he has continued to produce illustrations and art pieces to jump out of his walls, diving and driving beyond boundaries. Fawaz knows well enough that there is more to Color & Design than BrandArt, and illustration. Loyal to a Visual World, Fawaz is a self-taught graphic designer, digital artist, photographer, fashion designer, architect, and interior designer. As an artist Fawaz has attracted an international appeal, he has spread his art through the virtual arena, and now displays several paintings in galleries abroad (including Denmark and Dubai). Acclaimed, appreciated, and still humble, Fawaz expresses suppression, love, romance, peace, and the will to be free in his digital creations. He tells his art in layers, in textures, in meaningful colors. He forms his art to tell a story, to spark imagination, to awaken curiosity, to ignite passion. Refusing to be tied down by someone else's rules, Fawaz went on to establish himself independently as a designer. Most recent in his portfolio is a wide collection of Corporate Identities, and Brand Development. His love for creativity has also inspired him to produce Corporate Art, or as the Artist labels it "BrandArt". Fawaz designs exclusive Art Work for companies; using their brand and culture to create unique piece of art. In 2006, he was selected by creativepublic.com as one of the top 10 designers seen, also winning several web awards. His most recent acknowledgement from ArtBistro.com, awarded in August 2008, is the "Featured Portfolio Award". Plus winning 2 art awards from Yayart.com. Fawaz specializes in: Brands, Identities, print collaterals, web design, multimedia, illustration, digital art, graphics, BrandArt, clothing and print products. Fawaz's photography approach is simple; "It's about being in the right place at the right time". He captures moments of life, he appreciates the beauty of the world, he loves nature, wildlife and old structures, and he focusses on details and textures. Fawaz has a unique eye that sees everyday life from a different perspective. He has recently won a photography award from ArtBistro.com for "Sad girl" taken in Spiti Valley, India in Jun 2007. As a musician Fawaz is one of the rare DJ breeds in the Middle East, considered by his fans to be Bahrain's most talented techno hero, a respected DJ and producer. A passionate and progressive artist with a strong fan base who is focused on sharing his positive vibes with the world. Fawaz plays a wide range of techno music, ranging from minimal to hardcore. His sound is emotional and funky; his base is deep but pumping. He's known for his solid crisp mixing and the ability to fill the dance floor at any time. His sets are a gradual build-up, step-by-step his music is always getting higher and faster, a funky crazy ride. As high as the crowed wants to go. He ads "I love to connect with the crowed, See the smiles on every face and hear them scream for more". Fawaz has just established his own record label "Teknobasso" that will feature his own electronic music production that brings together a mix of electro, tech-house, progressive and techno styles, adding samples from speeches and old Arabic vocals & drums (expressing his roots). His aim is to work with and help other artist in Bahrain and the region, release their music and in the process create a unique sound. "Dance music is about lifting the crowed to a higher state of being. And a positive connection between cultures and races". With a powerful techno sound that will blow your mind and make you beg for more, Fawaz is definitely a name that one should not miss. fawazo joined Society6 on November 18, 2013
More
Born in September 4th 1977, Fawaz lived all his life in Bahrain. Taking his first steps, Fawaz is an artist born in color, in culture, in a home for inspirations. Rooted to a family of artists, he has spiraled and stemmed, sprouting into the sun. "Every hobby of mine has a dream!" It starts with heroes like Spiderman and Grendizer- comics and storyboards found his appeal; side by side with horror, science fiction, and animation. Through visual intelligence, he admitted to his love in color and textures. To Fawaz, pleasure is found in stinging curves of a palm tree, even a lazy sun setting on his home island. Yet while his pleasures are silent, his expressions are loud. Not only does he think in color, Fawaz also teases the mind with music, and daring fiction. Aspirations open doors. He has awakened, and instantly realized his dreams. Fawaz is a digital artist, graphic designer, photographer, a techno DJ & producer, fiction writer, with a number of hobbies on the side.
Here is one of Fawaz's many beginnings. At age 10, he won his first award for an art piece called «Monsters Cafe» at a United Nations International Art Exhibition held in China. By the age of 11, he was a certified Apple user and a year later became the first to teach Canvas in Apple Center, Bahrain. Fawaz followed the signs to study design, and majored in Visual Communication at the Art Institute International, Pittsburgh, PA, USA. Fawaz is gaining day-by-day experience and expertise in the visual arts. "Every day is an opportunity to learn something new."
Fourteen years on with experience in the market and with clients like "Medina, e-promoseven & Gulf Air", Fawaz gained a corporate angle to strategic web design, original brands, portfolio development, print, digital art, and more. True to this dream, he has continued to produce illustrations and art pieces to jump out of his walls, diving and driving beyond boundaries. Fawaz knows well enough that there is more to Color & Design than BrandArt, and illustration. Loyal to a Visual World, Fawaz is a self-taught graphic designer, digital artist, photographer, fashion designer, architect, and interior designer.
As an artist Fawaz has attracted an international appeal, he has spread his art through the virtual arena, and now displays several paintings in galleries abroad (including Denmark and Dubai). Acclaimed, appreciated, and still humble, Fawaz expresses suppression, love, romance, peace, and the will to be free in his digital creations. He tells his art in layers, in textures, in meaningful colors. He forms his art to tell a story, to spark imagination, to awaken curiosity, to ignite passion.
Refusing to be tied down by someone else's rules, Fawaz went on to establish himself independently as a designer. Most recent in his portfolio is a wide collection of Corporate Identities, and Brand Development. His love for creativity has also inspired him to produce Corporate Art, or as the Artist labels it "BrandArt". Fawaz designs exclusive Art Work for companies; using their brand and culture to create unique piece of art.
In 2006, he was selected by creativepublic.com as one of the top 10 designers seen, also winning several web awards. His most recent acknowledgement from ArtBistro.com, awarded in August 2008, is the "Featured Portfolio Award". Plus winning 2 art awards from Yayart.com. Fawaz specializes in: Brands, Identities, print collaterals, web design, multimedia, illustration, digital art, graphics, BrandArt, clothing and print products.
Fawaz's photography approach is simple; "It's about being in the right place at the right time". He captures moments of life, he appreciates the beauty of the world, he loves nature, wildlife and old structures, and he focusses on details and textures. Fawaz has a unique eye that sees everyday life from a different perspective. He has recently won a photography award from ArtBistro.com for "Sad girl" taken in Spiti Valley, India in Jun 2007.
As a musician Fawaz is one of the rare DJ breeds in the Middle East, considered by his fans to be Bahrain's most talented techno hero, a respected DJ and producer. A passionate and progressive artist with a strong fan base who is focused on sharing his positive vibes with the world. Fawaz plays a wide range of techno music, ranging from minimal to hardcore. His sound is emotional and funky; his base is deep but pumping. He's known for his solid crisp mixing and the ability to fill the dance floor at any time. His sets are a gradual build-up, step-by-step his music is always getting higher and faster, a funky crazy ride. As high as the crowed wants to go. He ads "I love to connect with the crowed, See the smiles on every face and hear them scream for more".
Fawaz has just established his own record label "Teknobasso" that will feature his own electronic music production that brings together a mix of electro, tech-house, progressive and techno styles, adding samples from speeches and old Arabic vocals & drums (expressing his roots). His aim is to work with and help other artist in Bahrain and the region, release their music and in the process create a unique sound. "Dance music is about lifting the crowed to a higher state of being. And a positive connection between cultures and races". With a powerful techno sound that will blow your mind and make you beg for more, Fawaz is definitely a name that one should not miss.
fawazo joined Society6 on November 18, 2013.