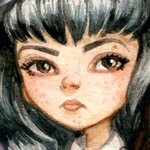 Felicia Cano
Hi, I'm Felicia Cano. I illustrate for children's books and games. I live with my family just outside of Los Angeles, California. I graduated from Pasadena Art Center College of Design. I work both digitally and traditionally. Please feel free to contact me if you have any questions. Thanks! Clients: Learning A to Z, Upperdeck, Marvel, Game Salute, AEG, Fantasy Flight Games, Hex Entertainment, and Gallery Nucleus Felicia Cano joined Society6 on August 21, 2016
More
Hi, I'm Felicia Cano. I illustrate for children's books and games. I live with my family just outside of Los Angeles, California. I graduated from Pasadena Art Center College of Design. I work both digitally and traditionally. Please feel free to contact me if you have any questions. Thanks!
Clients: Learning A to Z, Upperdeck, Marvel, Game Salute, AEG, Fantasy Flight Games, Hex Entertainment, and Gallery Nucleus
Felicia Cano joined Society6 on August 21, 2016.
Felicia Cano's Store
48 results
Filter