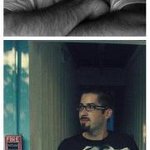 Félix Pagaimo
I'm an artist, designer, videographer, photographer, explorer and deep thinker. I live in Portugal and spent my entire life here. I started photographing back in 2007 when out of the blank I decided to buy a DSLR camera. Since then it became my appendix, I eat, I drink, I breath photography. My favorite photography genre is Street Photography but my mind is shifting into other directions lately. Self taught creator, what you see here it's the product of a non stop assimilation of everything around me. Still discovering and not expecting an ending, I just started. www.felixpagaimo.com www.facebook.com/felixpagaimophotography Félix Pagaimo joined Society6 on June 15, 2012
More
I'm an artist, designer, videographer, photographer, explorer and deep thinker. I live in Portugal and spent my entire life here. I started photographing back in 2007 when out of the blank I decided to buy a DSLR camera. Since then it became my appendix, I eat, I drink, I breath photography. My favorite photography genre is Street Photography but my mind is shifting into other directions lately. Self taught creator, what you see here it's the product of a non stop assimilation of everything around me. Still discovering and not expecting an ending, I just started.
www.felixpagaimo.com www.facebook.com/felixpagaimophotography
Félix Pagaimo joined Society6 on June 15, 2012.