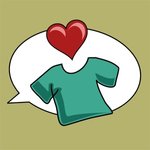 Ferguccio
I started out on leaving Art College as a freehand artist & illustrator, working with murals, comics, book illustrations, album covers etc. I became a resident artist for a large printing company creating colour seperated freehand illustrations before the advent of 'clipart' which sounded the demise of this kind of work. Now I illustrate full time...creating designs for T-Shirts, and just about anything that can be printed. Ferguccio joined Society6 on August 6, 2015
More
I started out on leaving Art College as a freehand artist & illustrator, working with murals, comics, book illustrations, album covers etc. I became a resident artist for a large printing company creating colour seperated freehand illustrations before the advent of 'clipart' which sounded the demise of this kind of work.
Now I illustrate full time...creating designs for T-Shirts, and just about anything that can be printed.
Ferguccio joined Society6 on August 6, 2015.
Tshirts by Ferguccio
24 results
Filter