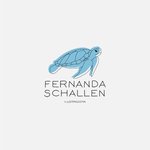 Fernanda Schallen
Fernanda Schallen is an illustrator living in Brazil. She likes to create artworks using mostly photoshop and occasionally Illustrator. She is passionated about animals and nature and likes to mix techniques to create exclusive artwork! You can "like" her Facebook page here: facebook.com/fernanda.schallen Fernanda Schallen joined Society6 on May 23, 2015
More
Fernanda Schallen is an illustrator living in Brazil. She likes to create artworks using mostly photoshop and occasionally Illustrator. She is passionated about animals and nature and likes to mix techniques to create exclusive artwork!
You can "like" her Facebook page here: facebook.com/fernanda.schallen
Fernanda Schallen joined Society6 on May 23, 2015.