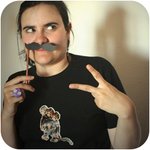 fern pi
I'm 27 years old. I live in Tuscany with my love. I have a degree in graphic design but I'm a happy housewife :) I love: create cute plushes, recipes, books, photography and photomanipulations, movie, series and geekery live-style! my etsy shop:: nanaif.etsy.com fern pi joined Society6 on March 9, 2013
More
I'm 27 years old. I live in Tuscany with my love. I have a degree in graphic design but I'm a happy housewife :) I love: create cute plushes, recipes, books, photography and photomanipulations, movie, series and geekery live-style!
my etsy shop:: nanaif.etsy.com
fern pi joined Society6 on March 9, 2013.