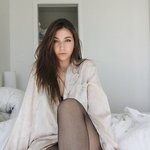 Shelby Wollbaum
Hi I'm Shelby, I am a self taught artist and travel photographer from Canada :) I am obsessed with dot work but want to get into painting soon so keep an eye out for new work. I recently sold one of my designs to Wickedclothes and looking forward to working with more clothing brands! You can find me on Instagram @fernwehwolf or my blog thefernwehwolf.com Shelby Wollbaum joined Society6 on June 28, 2015
More
Hi I'm Shelby, I am a self taught artist and travel photographer from Canada :) I am obsessed with dot work but want to get into painting soon so keep an eye out for new work. I recently sold one of my designs to Wickedclothes and looking forward to working with more clothing brands!
You can find me on Instagram @fernwehwolf or my blog thefernwehwolf.com
Shelby Wollbaum joined Society6 on June 28, 2015.