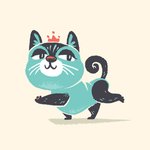 jefffisher.la
I'm Jeff Fisher, a graphic designer and illustrator living in Los Angeles, California. I work in the animal health industry as an in-house Art Director for a veterinary products manufacturer. The animal health industry appeals to me as an artist because of its creative potential. It's a space where a bit of boldness contrasts sharply against the mundane and clinical with plenty of room for artistic exploration. It's inspiring to work for a company that values design and has an enthusiasm for art. For the last two years, we've sponsored the More Than A Cone art charity auction, which sells art to benefit animal charities. I split my time outside of work between personal projects, freelance clients, and my growing family. My beautiful wife is incredibly giving and supportive. My kids are cute, but they're shockingly selfish. We're letting that slide until they're out of diapers. I'm available for hire. visit me at www.jefffisher.la jefffisher.la joined Society6 on August 27, 2013
More
I'm Jeff Fisher, a graphic designer and illustrator living in Los Angeles, California. I work in the animal health industry as an in-house Art Director for a veterinary products manufacturer.
The animal health industry appeals to me as an artist because of its creative potential. It's a space where a bit of boldness contrasts sharply against the mundane and clinical with plenty of room for artistic exploration.
It's inspiring to work for a company that values design and has an enthusiasm for art. For the last two years, we've sponsored the More Than A Cone art charity auction, which sells art to benefit animal charities.
I split my time outside of work between personal projects, freelance clients, and my growing family. My beautiful wife is incredibly giving and supportive. My kids are cute, but they're shockingly selfish. We're letting that slide until they're out of diapers.
I'm available for hire. visit me at www.jefffisher.la
jefffisher.la joined Society6 on August 27, 2013.